About Us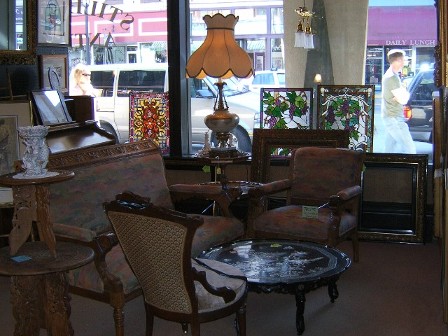 Stillwater Antiques Mall was voted by City Search as #1 in 2001, 2002, 2004 & 2006 and reviewed by the Minneapolis St. Paul Magazine (June 2008) as "...the best..." in a review article of all the antiques stores in Stillwater and we quote: "But Stillwater Antiques is still considered by many to be the best with a possibility of finding something special and rare among the mass furniture, china, books, vintage clothing, jewelry, sports collectibles, toys, paintings and more."
Our Antiques have traveled far within the USA with designers sourcing them for their projects. An example is cited in an article in the Better Homes and Gardens Magazine (April 2009) where in the restoration of an old farm house antiques were purchased from Stillwater Antiques and used to accentuate the decor (page 23, full article page 33).
We are housed in a "prairie" style building designed by Kislstofte & Vosejpka Architects for the Cosmopolitan Bank in 1968. The building stand on Main Street with its curved roof, wrapped around windows on the corner of three streets (Main, Myrtle and Water streets) providing and inviting shopping experience, with ample natural light on one level with an outdoor shopping feel yet with the comforts of the indoors and climate control.
We are located on Main Street, Stillwater, Minnesota surrounded by other specialty shops, restaurants and the St. Croix River. Main Street is a pedestrian friendly , scenic with historic buildings, river side park and the St. Croix River views.
Stillwater is the 1849 birth place of Minnesota located on the St. Croix river that divides Minnesota and Wisconsin and is ranked in the top 10 getaways by the Midwest Living Magazine (ref: St. Paul Pioneer Press newspaper, 4/20/2007) and has established itself as a historic city thriving on tourism with historic inns, commerce and crowned as the antiques capital of Minnesota.